The Association of Applied Geochemists hosts regular international symposia and plays a significant role in other events. This page serves as a source of information and material from these events.
Upcoming AAG Events
---

The AAG is co-sponsoring the Australian Geoscience Council Convention in October, 2018. Click here for more information.
---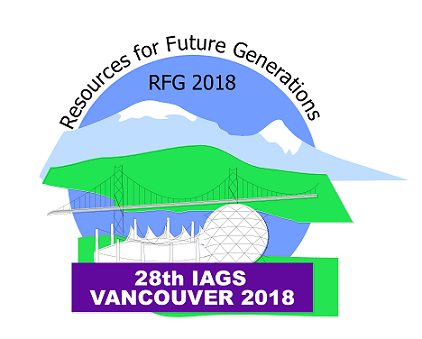 The AAG has partnered with the Resources for Future Generations 2018 Conference to be held in Vancouver, BC, Canada between 16-21 June 2018 to hold the IAGS2018 symposium as an integral component of the RFG18 conference. The 4 day conference covering Energy, Minerals, Water and the Earth is expected to attract in excess of 5000 people to Vancouver to attend the conference. This will provide the AAG with the opportunity to showcase through specific AAG sessions, the advancements and applications of geochemistry in the spheres of exploration and environment.
More information can be obtained from the RFG website (http://www.rfg2018.org).
---
Recent AAG Events

-27th International Applied Geochemistry Symposium (IAGS 2015)
(Tucson, Arizona)
---
Past AAG Events
-26th International Applied Geochemistry Symposium (IAGS 2013) 
(Rotorua, New Zealand)
-34th International Geological Congress (IGC 2012) Australia (proceedings)
-25th International Applied Geochemistry Symposium (IAGS 2011)
(Rovaniemi, Finland) 
PDFs of the program & abstracts, fieldtrip guidebooks, workshops, keynote addresses, and photo slideshow are all available at the website above.  
-24th International Applied Geochemistry Symposium (IAGS 2009) 
(Fredericton, New Brunswick, Canada)
-Exploration 07 - Exploration in the New Millennium (2007) 
(Toronto, Canada)
-23rd International Applied Geochemistry Symposium (IAGS 2007) 
(Oviedo, Spain)
-22nd International Geochemical Exploration Symposium (IGES 2005) 
(Perth, Australia)
-SEG's Predictive Mineral Discovery Under Cover Symposium
-21st International Geochemical Exploration Symposium (IGES 2003)
(Dublin, Ireland) 
-20th International Geochemical Exploration Symposium (IGES 2001)
(Santiago, Chile)
Abstracts
-19th International Geochemical Exploration Sympsoium (IGES 1999) 
(Vancouver, Canada)
Program and Abstracts
-16th International Geochemical Exploration Symposium (IGES 1993)
(Bejing, China)
Program and Abstracts - Split into two documents: PDF 1 (pages 1-150) and PDF 2 (pages 151-
-14th International Geochemical Exploration Symposium (IGES 1990)
(Prague, Czechoslovakia)
Extended Abstracts
Abstract Volume
-12th International Geochemical Exploration Symposium (IGES 1987)
(Orléans, France)
Program and Abstracts
-11th International Geochemical Exploration Symposium (IGES 1985)
(Toronto, Canada)
Program and Abstracts
-Exploration for Ore Deposits of the North American Cordillera (1984)
(Reno, USA)
Program and Abstracts
-10th International Geochemical Exploration Symposium (IGES 1983)
(Helsinki, Finland)
Program and Abstracts
-9th International Geochemical Exploration Symposium (IGES 1982)
(Saskatoon, Canada)
Program and Abstracts
-Precious Metals in the Northern Cordillera (1981)
(Vancouver, Canada)
Program and Abstracts
-8th International Geochemical Exploration Symposium (IGES 1980)
(Hanover, Germany)
Abstracts Volume
-7th International Geochemical Exploration Symposium (IGES 1978)
(Golden, USA)
Program and Abstracts
-Exploration Geochemistry in the Appalachians (1976)
(Fredericton, Canada)
Program and Abstracts
-6th International Geochemical Exploration Symposium (IGES 1976)
(Sydney, Australia)
Proceedings
http://www.sciencedirect.com/science/journal/03756742/8/1-2
http://www.sciencedirect.com/science/article/pii/B9780444416537500044
-5th International Geochemical Exploration Symposium (IGES 1974)
(Vancouver, Canada)
Program with Abstract
-4th International Geochemical Exploration Symposium (IGES 1972)
(London, England)
Program with Abstract
-3rd International Geochemical Exploration Symposium (IGES 1970)
(Toronto, Canada)
Program with Abstract
-2nd International Geochemical Exploration Symposium (IGES 1968)
(Golden, USA)
Program and Abstracts
-1st International Geochemical Exploration Symposium (IGES 1966)
(Ottawa, Canada)
Program and Abstracts
Proceedings
---
Additional Resources
-AAG Symposium Code of Practice (download the PDF here)
-Guidelines to Poster Presentations 
-Guidelines to Oral Presentations